The University of Illinois at Chicago
Exploring Chicago
So much to do and see in one of the world's great cities
Chicago is an energetic place where you can spend an afternoon enjoying parks and beaches or discovering art and artifacts. Whether you stroll down Michigan Avenue or roll down the Chicago River on a boat tour, there's something for everyone.
With more than 8,100 acres of green space in more than 600 parks, there's a reason Chicago calls itself "City in a Garden."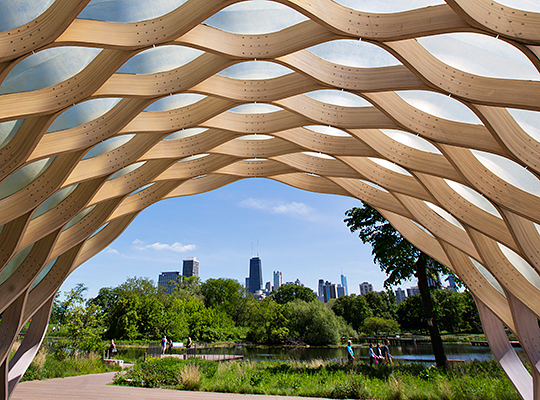 Located side by side in the Loop, Grant Park and Millennium Park are popular with residents and visitors from around the world. Explore the Taste of Chicago or the musical extravaganza Lollapalooza at Grant Park in the summer. Millennium Park is home to the McCormick Tribune Plaza and Ice Rink, the Jay Pritzker Pavilion and the Cloud Gate sculpture. The newest neighbor is Maggie Daley Park. When the weather turns too cool for the picnic groves, climbing wall and play garden, try the ice-skating ribbon.
For a more relaxed scene, visit Palmisano Park in Bridgeport or the Lincoln Park Alfred Caldwell Lily Pool. There's a fishing pond, track and field and wetlands accompanied by city views. Under the skyscrapers sits Chicago's wildlife center. From monkeys to lions, Lincoln Park Zoo houses a world of cuddly animals and roaring beasts.
Soak in the sun and splash in the water at Chicago's beaches, stretching for 26 miles along Lake Michigan.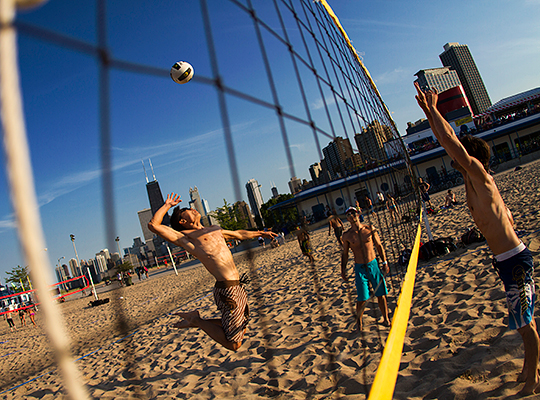 Each of Chicago's more than two dozen beaches offers a variety of sandy fun and its own food, drink and amenities, including water sports activities and gear. The Chicago Transit Authority (CTA) makes it easy to get to the sun and surf with convenient park and beach service.
One of the most popular locations, North Avenue Beach, has free wifi for visitors and an ocean-liner inspired beach house. Enjoy a game of volleyball with friends and family at the south end of the beach or at Oak Street Beach.
Want to bring along furry family members? Dog-friendly areas include Montrose Beach and Belmont Harbor Beach.
Chicago offers endless opportunities for a cultural experience, from museums to music, dance and art.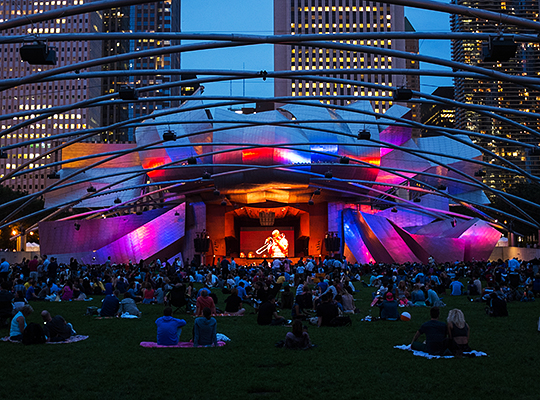 Tied together by green space, the Museum Campus is home to world-renowned institutions of art and artifacts. To explore world cultures, visit the Field Museum, and don't forget to greet Sue, the museum's in-house dinosaur. The Adler Planetarium shows visitors outer space and beyond, and the Shedd Aquarium is filled with colorful reefs and sea creatures sure to make everyone smile.
Other cultural offerings include the Chicago History Museum, which showcases the city's past and future, the Art Institute and the Museum of Contemporary Art. Chicago is home to extraordinary musical talent, such as the Chicago Symphony Orchestra and Lyric Opera of Chicago. Less formal but just as rewarding, Ravinia is only a train ride away. North America's oldest music festival hosts a number of musicians in the summertime.
After winter blows over, Chicago sparkles in the summer heat. There's attractions for everyone, from food to satisfy the stomach to music for the ears.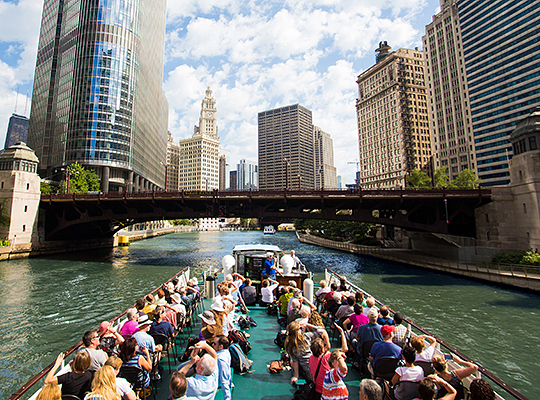 One the most iconic places to visit is Navy Pier, an extravaganza of outdoor fun. Enjoy a boat ride on the lake, a trip to the top of the Ferris wheel, Fourth of July fireworks or a scoop of ice cream on a hot day.
Pack a picnic basket and enjoy movies in the park with friends — there are 250+ screenings every summer.
Want to sample all of the exciting cuisines that Chicago has to offer in one place? The Taste of Chicago in Grant Park has endless food options as well as musical performances.
Want to check out a festival? Take your pick — there are more than enough neighborhood festivals to fill every weekend of your summer. One of the world's most well-known musical festivals, Lollapalooza, happens in the heart of Chicago. Each summer, hundreds of musicians gather in Grant Park to show the city why music is so important.
Chicago may be known for its cold and snowy weather, but there's plenty of winter fun, indoors and outdoors.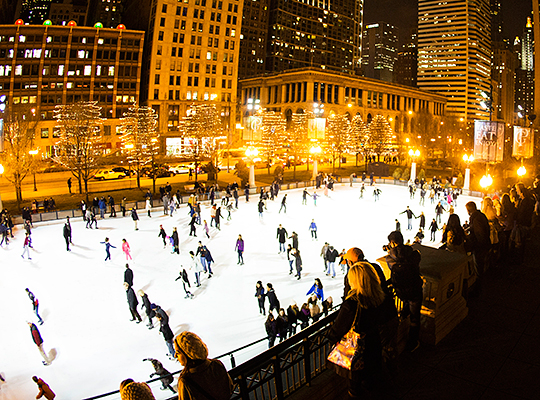 Try ice skating at Millennium Park's ice rink or the new ribbon at Maggie Daley Park, a place for arctic fun where visitors can enjoy a cup of hot chocolate along the path.
During the holiday season, Lincoln Park Zoo has Zoolights, a sparkling outdoor delight of more than 2 million lights with musical shows and 3D displays. To escape the cold, Navy Pier's indoor Winter Wonderfest offers dazzling lights, holiday activities, food, drink, an ice rink and rides.
The Garfield Park Conservatory is one of the largest and most amazing botanical conservatories in the nation and is often referred to as, "landscape art under glass." It offers a beautiful and warm respite to the chill winter air outside.