University of Illinois Chicago
UIC is a leader in research
At Chicago's only public research university, real-world problems are solved through innovation and discovery. Research at the University of Illinois Chicago reshapes educational policy; develops cleaner, more sustainable energy; helps to make sense of today's vast amounts of computer-generated data; and drives economic development by moving research to practical application. Outstanding programs range from the creation of new medical diagnostic techniques and treatments to studying urban climate change and environmental health to creating quantum computers. You will find opportunities to pursue your interests in-depth with researchers on the cutting edge of discovery in the humanities, social sciences, natural and medical sciences and engineering.
Impact, from local to global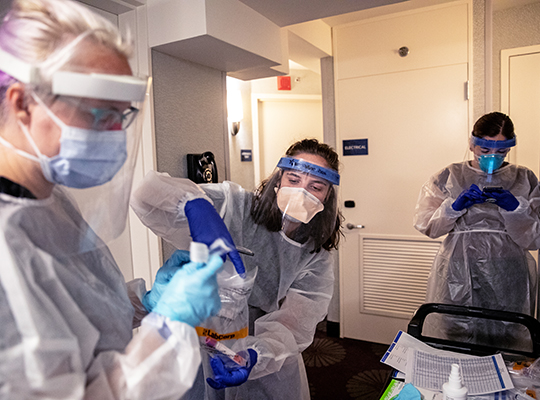 UIC faculty, students and staff conduct research with a mission, producing discoveries and insights that improve the world's health, safety, economy, sustainability and equity. We work with our neighboring communities in Chicago and Illinois to ensure that they have access to the benefits of research, serving a diverse patient population through clinical trials and implementation of new medical advances at UI Health and collaborating with city and state governments on evidence-based policies for transportation, development and education.
UIC research also achieves national and global reach. Our health sciences research pioneers the design of new drugs, therapeutics and public health approaches that combat disease and improve quality of life worldwide. UIC engineers, architects and designers develop new technologies for cleaner energy, manufacturing and infrastructure and the tools to make computer networks more innovative and secure. Experts in law, business, social work and urban planning design and test systems that protect society's most vulnerable, ensure opportunity for all individuals and build just, reliable and livable communities.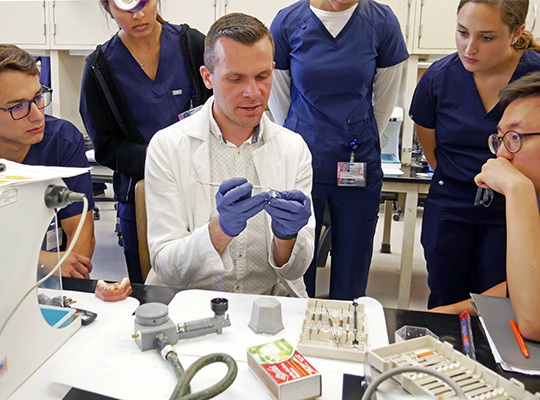 Teaching and research are a potent blend — each informs the other. Science is a process for learning about the world, not a list of facts to memorize. Researchers bring a deep understanding of the scientific enterprise and a sense of the wonder of discovery into the classroom.
UIC students have research opportunities that help them gain real-world experience in the classroom as they work side-by-side with federal grant-funded investigators. The Undergraduate Research Experience is a university–wide program dedicated to fostering scholarly engagement and intellectual growth, connecting students with dozens of funding programs and events where they can share their work. The Graduate College supports 7,3000 graduate students in more than 100 master's programs and 63 doctoral programs, preparing diverse thought leaders in a wide variety of careers spanning academia, private industry, non-profit organizations, and government.
Multidisciplinary and collaborative research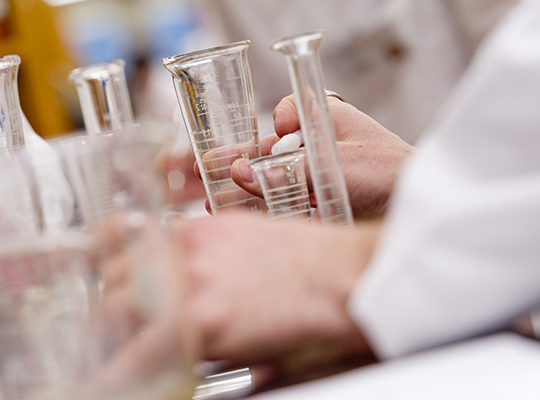 The largest scientific questions cannot be answered by one discipline alone. Collaborations across fields of expertise produce effective solutions that translate to real-world application, robust and beneficial innovations, and deeper, more equitable social impact. With 16 colleges representing the social, natural and health sciences, engineering, education and public policy, the UIC campus is a fertile environment for unique, interdisciplinary research partnerships.
The Office of the Vice Chancellor for Research provides planning awards for interdisciplinary research institutes, as well as detailed information on external funding sources, such as through listservs, weekly grant news, advice and analysis and upcoming deadlines. Funding programs such as the Chancellor's Translational Research Initiative and Proof of Concept Awards support early–stage, often multi–disciplinary projects with high commercialization potential, preparing projects for future funding opportunities.
UIC researchers also collaborate with colleagues in the University of Illinois System through the Discovery Partners Institute, whold appointments at Argonne National Laboratory, Fermilab and the Field Museum, and participate in the vibrant Chicago academic research community.