The University of Illinois at Chicago
Research Strengths
At UIC, renowned researchers lead programs that affect the way we live
Broad-ranging research initiatives at the University of Illinois at Chicago encourage a level of collaboration within and across disciplines. These powerful partnerships lead to new worlds in computer science, sustainability, bioengineering, health sciences, psychology and education.
Urban school systems face unique challenges, often with limited funding. Education researchers at UIC focus on making Chicago schools more effective while designing national models for training urban educators.
The Center for Urban Education Leadership is a doctoral program that produces principals who transform urban schools. Principals and assistant principals are recruited into this program, where they reach their full potential with coaching by UIC faculty who are former principals.
The Center for Literacy works with schools, governments and nonprofits to improve literacy education. Staff and volunteers serve adults who want to earn a GED or learn English, children in Head Start programs, parents and teachers of autistic children and many others.
The Collaborative for Equity and Justice in Education researches issues that affect urban schools and their students. It publishes often-cited reports on topics like elected vs. appointed school boards, school closings and the need for bilingual communications.
The Center for the Mathematics Education of Latinos/as links UIC with three southwestern universities to research math education and brings together experts in education, math, languages and culture to collaboratively work to improve the math skills of low-income Latino students.
The Research on Urban Education Policy Initiative publishes papers on school issues affecting Illinois children. The analyses and recommendations are designed for lawmakers, parents and others who need unbiased information based on current research.
Urban planning and public affairs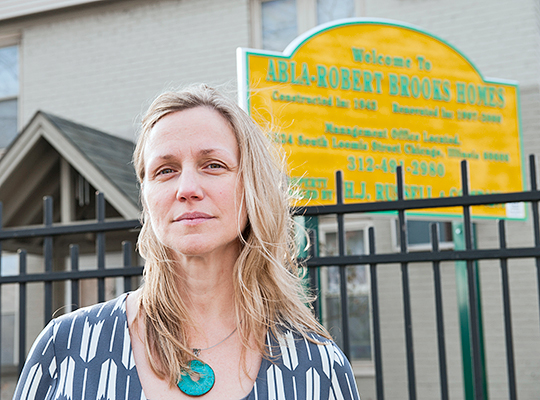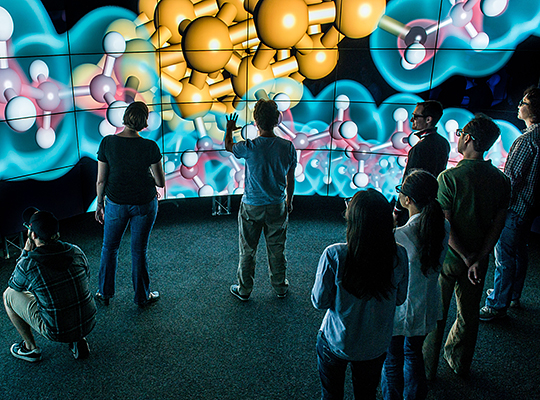 Computer science at UIC is nationally ranked as one of the most innovative in the country and one of the top programs for studying gaming.
The Electronic Visualization Laboratory was established in 1973 as a joint effort of the College of Engineering and School of Art and Design. The Electronic Visualization Lab, or EVL, is the oldest formal collaboration between engineering and art in the United States. The EVL has grown into an internationally renowned interdisciplinary research laboratory as the explosion of big data has created a need for high-performance visualization, virtual reality and advanced networking infrastructure for collaboration.
Data mining at UIC has some of the most cited researchers in the field working to extract meaning from huge data sets in ways that will revolutionize everything from marketing to medicine. Computational biology brings the power of computers to the world of animal conservation.
Computer science faculty engaged in cybersecurity programs are exploring everything from understanding how data is collected and used to finding better ways to protect online purchases on smartphones. A $1.4 million grant from the Defense Advanced Research Projects Agency to design, develop and evaluate a system that will identify security vulnerabilities in web software will engage undergraduate and graduate students interested in learning about state-of-the-art digital security tools.
UIC's Artificial Intelligence Laboratory developed and maintains the Illinois Department of Transportation's real-time traffic map, the Gateway system.
UIC's computer science faculty include leaders in natural language processing, networked systems, database investigations and computer science theory.
Public health & health policy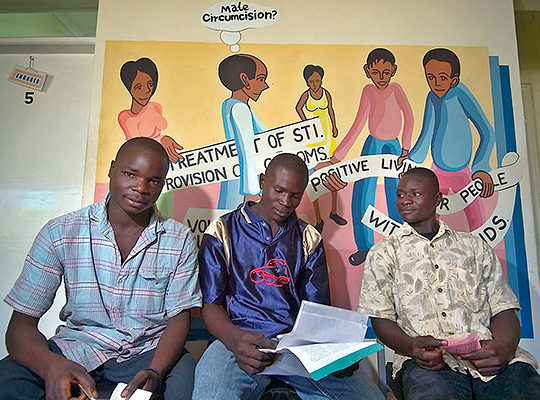 UIC researchers take an active part in local, national and international public health and policy conversations, and their contributions have led to changes that are saving lives.
From Project HEAL, which has increased the number of Chicagoans who know their HIV status, to research investigating the efficacy of an app to improve HIV medication adherence among gay black men, UIC researchers are making a real impact on reducing the unintended spread of HIV.
By partnering with the Chicago Park District to conduct same-day water testing that park officials use to guide swim advisories that warn swimmers of dangerous bacteria levels, UIC directly protects the health of thousands of beachgoers and swimmers every summer. The program has expanded to include 20 Chicago beaches.
Researchers in UIC's CDC-funded Illinois Prevention Research Center, housed in the UIC School of Public, conduct research that will help guide public health policies and environmental changes aimed at improving nutrition, physical activity, and tobacco avoidance to reduce chronic disease risk — and to diminish disparities among population groups in these health behaviors and outcomes.
Their work will look at how numerous social determinants of health, including access to healthy food, transportation and the availability of places for recreation and exercise impact health.
The Center for Health Equity Research Chicago is a National Institutes of Health-funded Center of Excellence, based out of the University of Illinois Cancer Center and the UIC School of Public Health and in collaboration with the University of Chicago Medicine, dedicated to researching how various social structures and determinants contribute to the health of marginalized groups.
Co-led by UIC reserachers, the Chicago Center for Health and Environment promotes multidisciplinary environmental health research among clinician, laboratory and population scientists in Chicago to evaluate and ultimately reduce environmental health-related disparities among residents of the region and beyond.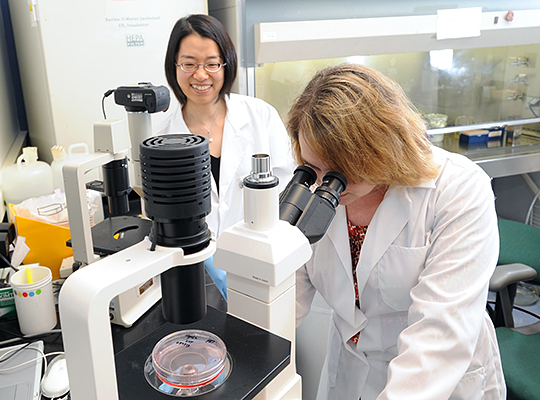 A cure for Alzheimer's disease, easing the pain linked to sickle cell disease, or uncovering new treatments for ovarian and breast cancer may one day occur through research at the College of Pharmacy.
UIC researchers go to great lengths to find new discoveries that impact the world's health. Scientists comb the depths of the oceans and Great Lakes to collect bacteria that can potentially be used to develop new antibiotic drugs to cure infectious diseases. They search the Asian rainforests to find plants that may contain biologically active molecules that may one day be developed to cure cancer, AIDS, tuberculosis and malaria.
Look on the shelf of any health store and you will find a natural product that is being studied at UIC's Botanical Center. Scientists are testing the safety and value of botanicals — especially those that may help women — focusing on plants that are commonly available as dietary supplements. Hops, licorice, mangosteen, black cohosh and red clover are just some of the natural products studied at UIC.
The College of Pharmacy is currently the No. 6 ranked pharmacy school in the United States by U.S. News & World Report and has consistently ranked in the top 7 in external research funding, according to the American Association of Colleges of Pharmacy.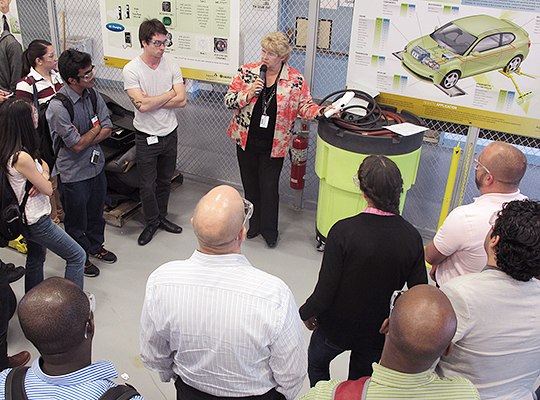 As a public research university in the heart of Chicago, UIC is especially aware of its impact on the city and the role it plays in bringing sustainable practices and policies to the campus, the city, the state and the world through example and research.
The Chancellor's Committee on Sustainability and Energy has recently developed a set of Climate Commitments that will help the university achieve carbon neutrality, become a zero waste and net zero water campus and increase biodiversity on campus grounds.
There are many ways to make sustainability the focus of your studies at UIC. Earth and Environmental Sciences, Civil and Materials Engineering, Urban Planning and Policy and several other departments offer different paths to careers in sustainability.
Courses in nearly every department reflect the broad scope of this issue. At UIC, you are urged to think about how sustainability applies to every aspect of life, whether you study accounting, art, education, geography, physics or public health.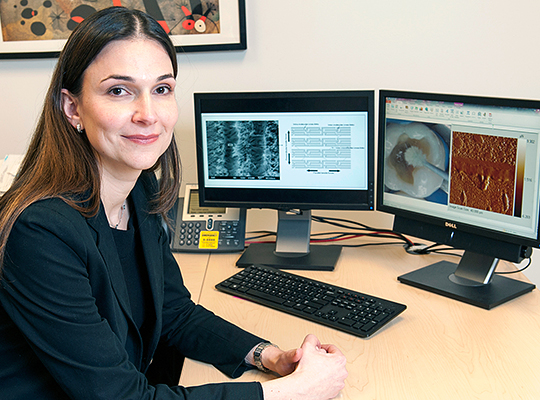 There's more to dentistry than cleaning teeth, filling cavities and performing root canals. The College of Dentistry has 16 clinics that treat patients of all ages and trains the most dentists in the state of Illinois.
Oral health researchers conduct groundbreaking studies, from working toward a future of eliminating tooth decay, to studying whether green tea can inhibit the growth of cancer cells in smokers, to performing studies on how proteins can regrow dentin to one day bring a new way to fill cavities.
To prepare a capable and dedicated workforce that addresses the oral health needs of vulnerable and underserved populations, fourth-year dental students are required to participate in service-learning experiences at community-based rotations in partnering clinics. The health centers are located throughout the Chicago area, Illinois, Colorado and internationally, including Guatemala, China and Tanzania.
The college has several specialty facilities, including the Center for Wound Healing and Tissue Regeneration, where a community of scientists and clinicians investigate how the body reacts to injury, as well as mechanisms of repairing and regenerating tissues.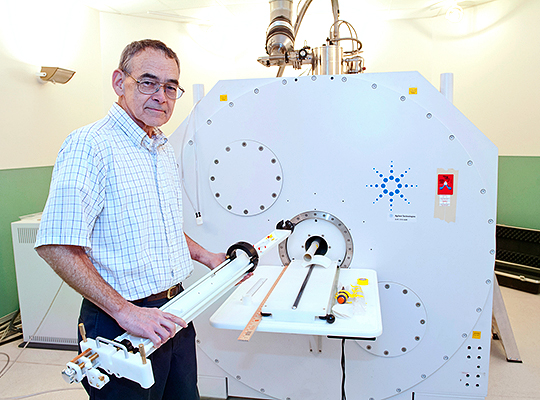 UIC's Richard and Loan Hill Department of Bioengineering is housed in both the College of Medicine and the College of Engineering. One of the first degree-granting biomedical engineering programs in the nation, the department enrolls about 100 doctoral, 75 master of science and 350 bachelor of science students in degree programs in bioengineering and bioinformatics. Program offerings and flexibility allow students to ideally prepare for transitions to industrial and academic opportunities, as well as enrollment in advanced professional education, such as medical school.
UIC's bioengineering labs explore the world of nanobiotechnology – the intersection of nanoscience and biology. Investigators are devising advanced nanomaterials for tissue regeneration and other areas of preventive and restorative medicine. Scientists model ways to better understand the blood/brain barrier and deliver drugs to the brain.
A grant from the National Science Foundation supports the Center for Advanced Design and Manufacturing of Integrated Microfluidics, which includes faculty from bioengineering and medicine, and focuses on developing miniature devices that can do things like rapidly detect dangerous toxins in the blood, quickly screen hundreds of potential drugs, or isolate cancer cells from blood.