The University of Illinois at Chicago
Student Research
At UIC, learning isn't limited to classrooms
University of Illinois at Chicago students conduct research in business, education, engineering, humanities and the arts, natural sciences, mathematics, the social sciences and other fields. Undergraduate and graduate students work with renowned researchers through programs that pair them with faculty mentors who have similar interests.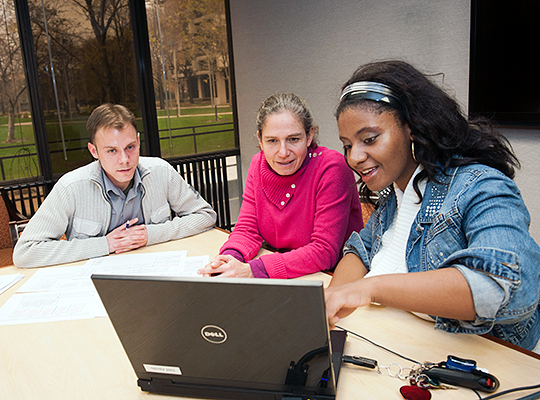 Nothing can compete with the real-world experience of research. No classroom can offer the excitement of discovery, the wonder of being the first person to know how something works. The experience can be life-changing.
UIC offers that experience to every student to enhance opportunities for graduate and professional school and careers in research and academia or professions where research experience is beneficial.
Programs throughout the university match students with scholars who help them further their research interests and achievements. Advising, matching, mentoring and internships are available.
The Undergraduate Research Experience serves the UIC community by facilitating the engagement of undergraduates in authentic research experiences and creative inquiries in all areas of scholarship, with an emphasis on involvements mentored by UIC faculty. The office's goal is to facilitate and diversify student participation in research and creative inquiry and to support the presentation, publication and dissemination of student work.
The Undergraduate Research Experience is a university-wide program that pairs students with faculty who have the same research interests.
The Chancellor's Undergraduate Research Award (CURA) provides supplemental funds to faculty and departments to employ undergraduates as research assistants.
The Honors College facilitates the Undergraduate Research Assistant Program, which matches Honors College students after their freshman year with faculty in business, education, engineering, the humanities and the arts, natural sciences, mathematics and the social sciences.
Students in the College of Liberal Arts and Sciences can learn more about undergraduate research programs in their field and information about financial support, from the Liberal Arts and Sciences Undergraduate Research Initiative.
Beginning the summer after their first year, students in the College of Engineering can be matched into paid internships through the Engineering Career Center.
UIC's College of Education supports research programs for undergraduate students, including The Engaged Research Fellowship (TERF), and graduate students, including awards for students to present their research at scholarly meetings and conferences.
No matter what your field or interest, UIC opens the door to the exciting world of research.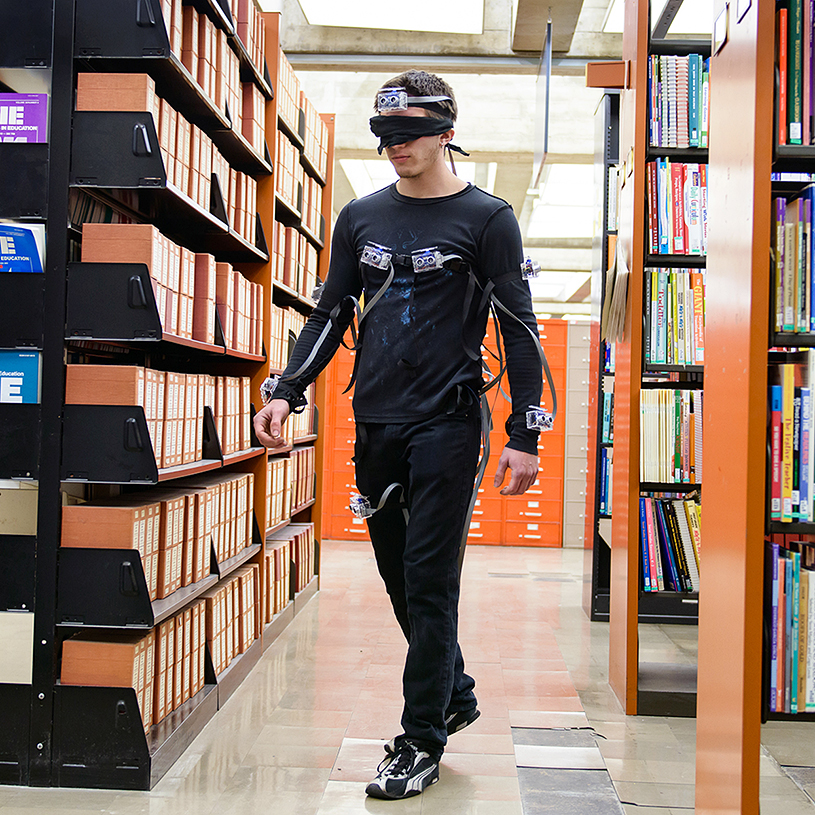 Research at UIC takes you far
Victor Mateevitsi, an Electronic Visualization Laboratory research assistant and Ph.D. candidate, won international recognition for inventing a "spidey sense" suit. The wearable suit lets users "sense" obstacles without actually seeing them. His research led to an internship with Pixar Animation Studios.
Students spend countless hours in laboratories, hospitals, libraries and in the community to collect data for their research. UIC celebrates these efforts at college research days and the annual campus-wide Impact and Research Day.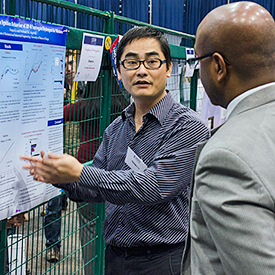 Impact and Research Day
During UIC Impact and Research Day the campus celebrates the wealth of research and engagements across all disciplines by dedicated undergraduate, graduate and professional students. The celebration provides a venue for students at UIC to present their research and other scholarly pursuits, and discuss the impact of those experiences.
Students from all disciplines are invited to present in one of four formats: a research poster, an impact poster or display, a 10-minute oral presentation, or another type of creative presentation. Each format is evaluated by faculty and alumni judges during a high-energy, 2.5-hour session. For those students enrolled in the Honors College, each of these formats will meet capstone requirements.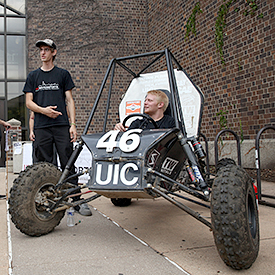 Student organizations
UIC's Center for Student Involvement has more than 75 professional and academic-focused student organizations, from accounting to engineering to pharmacy and more. These student organizations offer leadership experiences, help you develop professional networks, find internships, and further your education in your field of interest.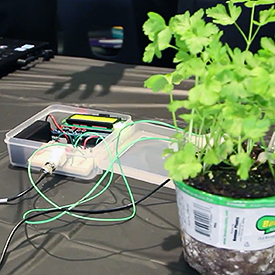 Engineering EXPO
It's the coolest science fair, ever: row upon row of tables of devices that light up, complicated gadgets with wires going every which way, contraptions with computer readouts and scale models of green space with tiny trees and fake grass.
Senior engineering students identify a real-world problem, develop an inventive solution, then present the results to representatives from local industries.