The University of Illinois at Chicago
Living On & Around Campus
At UIC, you can create your own community
With a diverse student body and a wide variety of activities on campus, it's easy to find a place to fit in and make memories that will last a lifetime. Whether you live on campus or commute, there's a place for you here at University of Illinois at Chicago.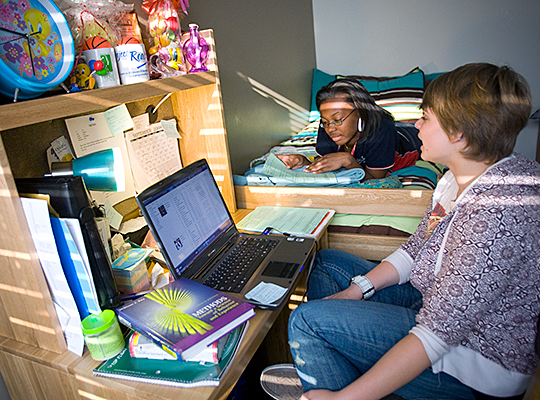 With housing options all over campus, students can experience all UIC and Chicago have to offer. Many undergraduates live on the east side of campus, in the Academic & Residential Complex, Commons North, Commons South, Commons West and Courtyard residence halls. Students who live here are minutes from lecture halls, Student Center East and the Student Recreation Center.
Students in the residence halls in the south side of campus — James Stukel Towers, Marie Robinson Hall and Thomas Beckham Hall – wake up to views of the Chicago skyline. Students are close to the new Curtis Granderson Stadium, home to the UIC Flames baseball team, and restaurants and shops on Halsted and Maxwell streets.
Polk Street Residence Hall and the Single Student Residence hall on the west side of campus are near UIC's health science colleges, Student Center West and lively Taylor Street.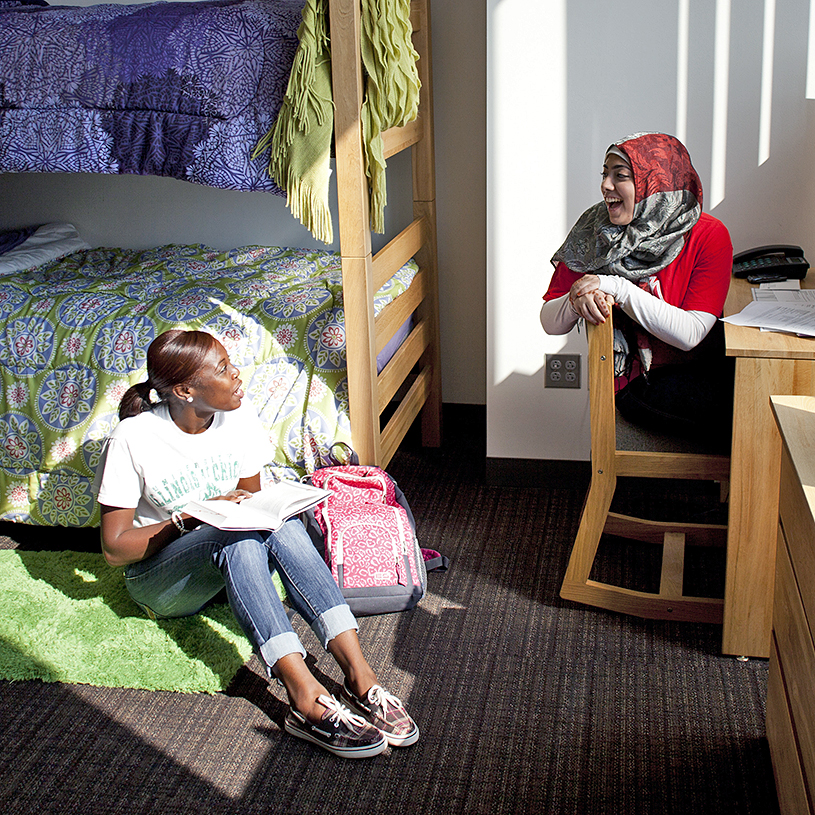 Living Learning Communities
Campus Housing offers Living Learning Communities (LLC), giving you the option to live with students with similar majors and interests. They offer a sense of community through programs, conversations, and faculty interaction. Campus Housing also has free tutoring for all students choosing to live on campus.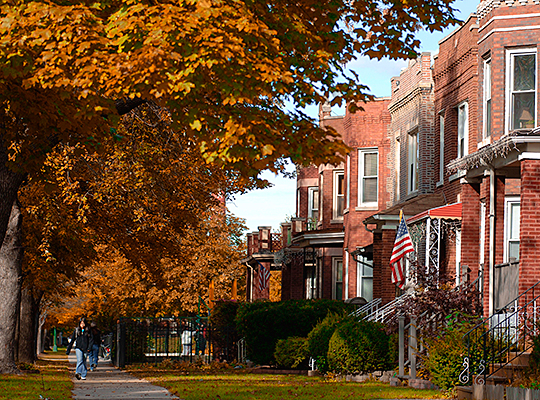 UIC sits among many culturally rich neighborhoods, such as Greektown, South Loop, West Loop, Pilsen, Little Italy and Chinatown. University Village is a recently revamped community that's trendy, student-oriented and only a few blocks from campus. On the CTA bus and "L," most neighborhoods are just a few minutes away from UIC.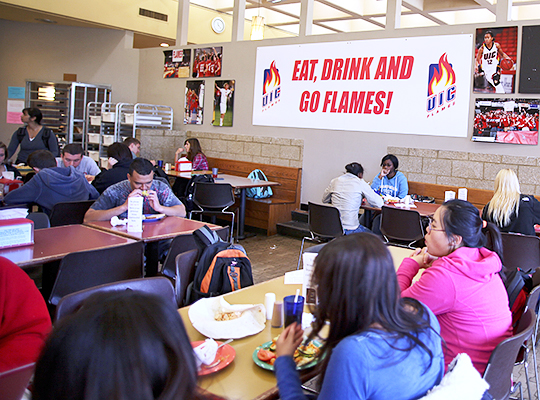 Whether or not you live in campus housing, UIC has meal plans you can purchase and use at cafeterias across campus. UIC has All-You-Care-To-Eat anytime dining at designated locations.
A variety of dining options – from fast-food eateries to cultural cuisine – are in the Student Centers. There are also plenty of retail and convenience stores across campus where you can pick up some snacks.
Commuter Student Resource Center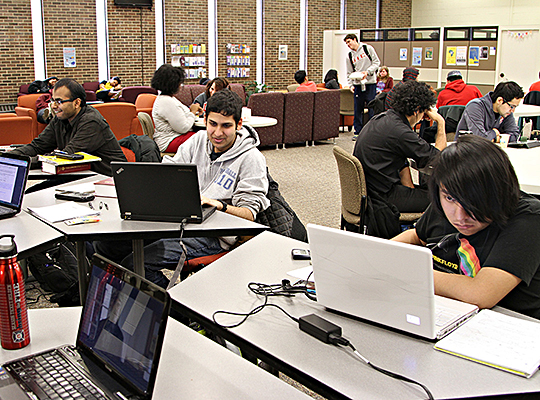 The Commuter Student Resource Center makes your day as a commuter student run more smoothly. The center provides a comfortable and friendly environment in Student Center East where commuters can go to relax between classes or to study. It has a lounge space, study spaces, kitchen, lockers, showers, a multipurpose room and lactation rooms. The staff can also provide information to commuter students on housing and transportation resources.
Travel to and around campus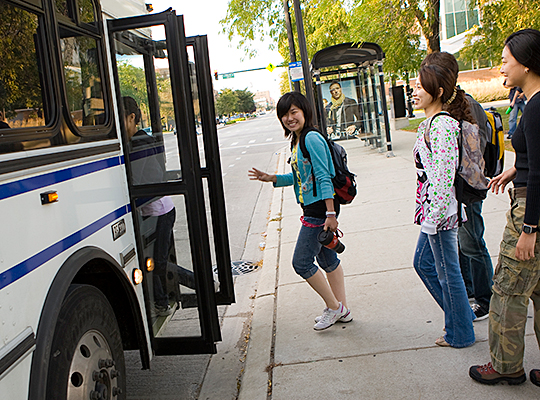 UIC makes traveling around campus and the city easy. There are over 800 bike racks around campus to make bike commuting easy and convenient. UIC also has many Divvy stations if you don't own a bike. The Intracampus Bus line helps you travel from the east to west side of campus and vice versa. Intracampus routes are accessible, and additional paratransit service options are available on campus seven days a week.
Walking can be a quick and healthy way to get around campus; you can get from one side of campus to the other in less than 30 minutes! Just remember, when walking in any major metropolitan city, be aware of your surroundings. The UIC Police recommend to be aware of the people walking behind you and next to you. It's tempting to text, talk on the phone or listen to music while walking around campus, but you're safest when you don't. After hours, students, faculty, and staff can call (312) 996-2830 to request an escort to walk them to their campus destination.
Need a ride home after late night studying at the library? Night Ride has got you covered. It's available when the Intercampus Shuttle does not run, from 11 p.m. to 7 a.m. every day, including holidays. Make sure you bring your i-card!
Want to explore Chicago? With the CTA Ventra U-PASS, the possibilities are endless. The U-PASS provides unlimited use of CTA trains and buses during the school year.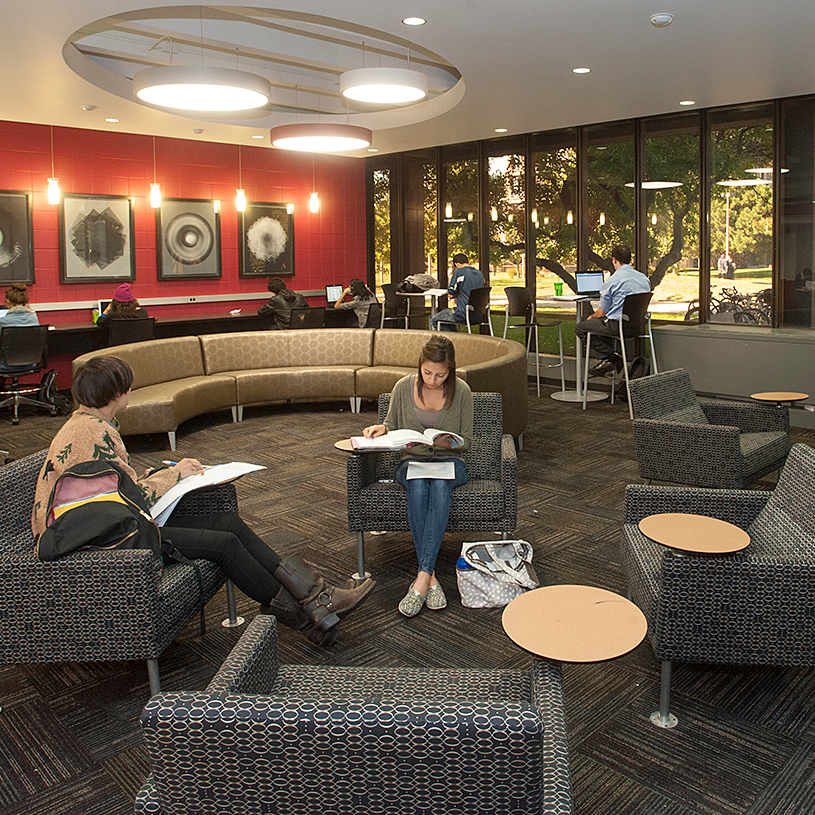 Project Oasis
The Project Oasis program provides places to interact, study and collaborate between classes. More than two dozen comfortable and supportive learning spaces have been created with attention to lighting, acoustics and ergonomics. Each oasis has contemporary furniture, and some even have artwork created by UIC art students and alumni. Oases come in all shapes and sizes and can be found in many campus buildings.